Welcome to Fresh Starts Chef Events!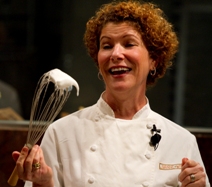 Based in The Key Room, Fresh Starts Chef Events lets you join a unique culinary community. Our showcase kitchen has introduced guests to luminaries like Chef Michael Mina, PBS-TV Chef Joanne Weir and Chef John Ash, a North Bay favorite.
**Due to COVID-19, our events will be virtual until further notice to reduce health risks for guests and staff. We look forward to resuming our regular presentations as soon as possible.
Students and graduates of Fresh Starts Culinary Academy, led by professional chefs, prepare and serve the recipes of each presenter. In most events, a chef demonstrates a three-course menu that guests can enjoy bite by bite.
As a social enterprise business of Homeward Bound of Marin, our events have a double bottom line: all proceeds benefit shelter and training programs at Homeward Bound of Marin and let our culinary students deepen their training by working with top-notch professionals.
It's not only the guests who leave happy -- read comments from some of our honored presenters:
I can tell you that I truly loved our experience at Fresh Starts Chef Events, especially the students. All in all it was a rewarding evening and I was happy to be surrounded by so much passion! - Sondra Bernstein, founder of the girl & the fig
It is not often that I do events like the one last night and come away with such a good feeling. You guys really have it together and I am proud to be a small part in what you are trying to accomplish. - Christian Caiazzo, chef/owner at Osteria Stellina
I must say that was one of most favorite classes I have done in over 30 years. I hope I can call myself a member of the Homeward Bound community! - Chef and cookbook author Joyce Jue