Welcome to Fresh Starts Chef Events!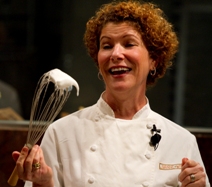 Based in The Key Room, Fresh Starts Chef Events lets you join a unique culinary community. Our showcase kitchen has introduced guests to luminaries like Chef Michael Mina, PBS-TV Chef Joanne Weir and Chef John Ash, a North Bay favorite.
Students and graduates of Fresh Starts Culinary Academy, led by professional chefs, prepare and serve the recipes of each presenter. In most events, a chef demonstrates a three-course menu that guests can enjoy bite by bite.
As a social enterprise business of Homeward Bound of Marin, our events have a double bottom line: all proceeds benefit shelter and training programs at Homeward Bound of Marin and let our culinary students deepen their training by working with top-notch professionals.
It's not only the guests who leave happy -- read comments from some of our honored presenters:
I can tell you that I truly loved our experience at Fresh Starts Chef Events, especially the students. All in all it was a rewarding evening and I was happy to be surrounded by so much passion! - Sondra Bernstein, founder of the girl & the fig
It is not often that I do events like the one last night and come away with such a good feeling. You guys really have it together and I am proud to be a small part in what you are trying to accomplish. - Christian Caiazzo, chef/owner at Osteria Stellina
I must say that was one of most favorite classes I have done in over 30 years. I hope I can call myself a member of the Homeward Bound community! - Chef and cookbook author Joyce Jue