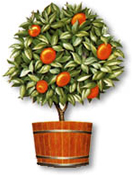 WELCOME TO THE WINTER 2015 ORANGE TREE IMPORTS COOKING SCHOOL!
Be on the lookout for the Spring Session, to be posted March 12th

Take a look at our new schedule by clicking on the "Calendar" link on the left menu bar.

If you have an Orange Tree Imports Gift Card, please call us at 608-255-8211 to process your reservation.


Make your selection of classes, add them to the cart and click on Checkout. It's that simple, 24-7!

The system will send you a confirmation within seconds and will also remind you three days before the date of the class(es) you reserved. All information you provide is secure. All purchases are made via secure connection. At check-out, the system will ask you to create a password. This will allow you access to your classes and to make changes to your reservation whenever you like.

You may register in person or by phone using credit card, check, or Orange Tree Imports Gift Card. Payment is required at time of purchase.


If you have any questions, please give us a call at 608-255-8211 and we'd be glad to assist you!